WELCOME
TO
PEARLS PAD
NEW ZEALAND.

HOME OF THE AMERICA'S CUP
I am researching my folk who

migrated to New Zealand.
They came from LANARKSHIRE and

ABERDEEN in SCOTLAND
BRISTOL and Newcastle on Tyne NORTHUMBERLAND.
St.Just, Penwith, in CORNWALL: Brough in WESTMORLAND:
Ware, in HERTFORDSHIRE and from LONDON.
From here I hope to share my Genealogy and Favorite Sites, detail my
Family Resources and Help you (and Me) to discover more about those
who have gone before Us!
Check out our Family Interests


SOME OF THE REFERENCE BOOKS ON
MY SHELVES WHICH ARE AVAILABLE FOR
LOOKUPS!
| | |
| --- | --- |
| | BAY OF ISLANDS SHIPPING ARR. & DEP. 1803 - 1840 |
| | BREWER'S DICTIONARY OF PHRASE & FABLE. |
| | CHAMBERS BOOK OF (WORLD) FACTS. |
| | The HUTCHINSON DICTIONARY OF WORLD HISTORY. |
The LONDON ENCYCLOPAEDIA. Ed. Ben WEINREB & Christopher HIBBERT

The NEW ZEALAND PILOT. (Detailed description of the Coasts of N.Z.
and all Islands, Inlets, Ports, Bays, Hazards and You-name-its.)

NEW ZEALAND SHIPWRECKS (1795-1975) by C.W.N.INGRAM

OXFORD (Eng): Dictionary.

RANDOM HOUSE (USA) Dictionary

WEBSTER's (USA) Dictionary.
| | |
| --- | --- |
| | OXFORD DICTIONARY OF SHIPS & THE SEA. |
| | THE DICTIONARY OF WORLD HISTORY. |
| | THE DOMESDAY BOOK. |
| | THE NEW ZEALAND ENCYCLOPAEDIA (1966) |
| | MAPS OF NEW ZEALAND. |

NEW ZEALAND PAGES
AUCKLAND

Auckland Based Inquests
From "TOUCHING ON DEATH". A Medical History of
Early Auckland, Based on the First 384 Inquests. By
Laurie GLUCKMAN, Edited by Ann GLUCKMAN and Mike WAGG.

BURIAL, BAPTISM & MARRIAGE INDEXES.
LOTS.. From Coromandel, Howick, Kaipara, Kaitaia, Mangonui,
Parengarenga,Remuera Auckland, Russell, Tamaki, Thames, Te Kao
and Whangarei.

BURGESSES OF AUCKLAND
1854 - 55. Names, addreses, Occupations etc.

CROWN GRANTS NOTIFICATION.
Auckland.1861 & 1864..

HARBOUR BOARD MEMBERS. Port of Auckland

INDEX TO DEATHS NZ HERALD 1864-1865
Surname.Christian Name. Father/Husband.

INDEX TO MARRIAGES: NZ. HERALD 1864 - 1865.
Surname. Christian Name. Spouse. Father. Month Published.

INDEXES FROM THE NEW ZEALANDER. 1856
These Include: Slaughterhouse, Stock & Grazing Licences 1856:
"Hundred" of Onehunga, Panmure, Otahuhu, Howick, Pupuke.
Auckland Battalian 1857: Details of Patients, Auck. Hospital 1856:
Signatures on Petition re City Building Bill 1854: Ditto re Application
for Land at Waiuku.

INDEXES FROM THE NEW ZEALANDER 1857
Names/Details of Deaths Auck. Prov. Hospital: T.S.FORSAITH's Comm.:
Raglan Residents: Electoral Rolls from Northland to Waikato..

INDEX FROM WYNYARD TESTIMONIAL.
List of Subscribers. From The New Zealander 27th October 1858

LIST OF NAMES FROM 'Early Auckland',
by E.E.VAILE

NOTICE TO PENSIONERS
Under the "Pensioners Claims Act, 1861" for issue Crown Lands
Office Auckland,28th. Jan. 1864. List of names. Auckland Area..

NZ. HERALD 1863. Extracts From

POINT CHEVALIER, Auckland.
An Index of Names of Residents. From 1861 to 1961.

ONEHUNGA & OTAHUHU ROAD FUND. .
List of Subscribers to the Onehunga & Otahuhu Road Fund. 1854.

THE PARKHURST BOYS.
They arrived in Auckland, New Zealand on the St George 1842
and the Mandarin in 1843. Quakers in England had arranged
for the segregation of young Offenders, who were sent to Prison on the
Isle of Wight, to be taught useful Trades. It was decided to give some
of the boys a break! They would be pardoned if they agreed to go to
New Zealand, to live and work as directed on arrival. Here is a List
of the Boys.

PASSENGER SHIPS TO AUCKLAND
List of passengers on the Ships:ANN 1847: BERHAMPORE 1849 :
S.S.AUCKLAND: BERWICK CASTLE 1852: CLIFTON 1847/48:
EMPRESS 1865: INCHINNAN 1852: KAIKOURA 1897: MINERVA 1847:
ORIENTAL QUEEN 1847: RAMILLIES 1847: LORD BURLEIGH 1856:
SIR GEORGE SEYMOUR 1847: SIR ROBERT SALE 1847.
EAGLE SPEED 1864: HANOVER. 1862: SILVER EAGLE

..

PASSENGER SHIP ' WAR SPIRIT'.
List of passengers. Sailed from Gravesend Eng. 12 March 1863.
Arr. Auckland 28th. June 1863.

PASSENGER SHIP OUTWARD. TO SYDNEY.
CLAUDE HAMILTON. H.S.MACHIN. SILVER EAGLE


PUBLICAN'S LICENCES. Auckland

1854 - 1861


ST.MATHEW'S CHURCH, AUCKLAND .
Lots of Early Aucklander's Names Extracted from Minutes Book. 1853-1863.


SUNDRY INDEXES
Census Collectors 1858: Cricket Teams 1858: 'Naval & Military Script:
Names& Diseases of Patients. Auck.Prov. Hospital: T.S,FORSAITH'S Comm.:
Residents of Raglan: Names From Electoral Rolls, North & South of Auckland.

UNCLAIMED MAIL
(WAS) Held at the General Post Office, Auckland. 1846 - 1864

WEDDING ANNIVERSARIES:
From Northern Newspapers. 1915 - 1960


BAY OF ISLANDS & NORTH

BAY OF ISLANDS
Very early Records and Names from RUSSELL and KAWAKAWA


BIRTHS, DEATHS, MARRIAGES.

Lots of old Families in this Index. From Auckland, Awhitu,
Hokianga, Kaitaia,
Mahurangi, Mardson Cross, Ohaeawai,

Russell, Waimate, Whangarei, Whangara, Mahurangi, Auckland etc.


FAR NORTH CEMETERIES.
Kaitaia (St. Saviours). Waiharara: Houhora (Mt. Camel.)

STATEMENT OF LANDS
List of Owners of Land Reverting to the Crown.. On the
Settlement of various Cases. Mainly in the Bay of Islands.
A few in Auckland Area.
KERIKERI INLET SCHOOL.
Registers, Pupils, Teachers from Sept. 13 1910, to 27 June 1957.
Includes Class and School Photos.

KERIKERI GAZETTE `1936.
Highlights & names from the Kerikeri Gazette. 1936

KERIKERI LANDING.
Stone Store (List of its MANY Shopkeepers) Kemp House (its Owners
and Tenants. St, James Church. (Brief History).

KERIKERI SENIOR NET. CONTACT ADDRESS.
Drop a Line to our Friendly Group. Everybody Welcome.

NORTHLAND PHOTOGRAPHS
Delwyn Lone
has Photographs and Lists from Districts,
taken from School-Reunion books, Weekly News' etc. and is
happy to look up names and copy photographs. Full List can
be viewed here:


OHAEAWAI SCHOOL ROLLS

Head Teachers - Staff Members - School Committees - Pupils.
So far I have copied the Rolls from1877 to 1920 . More to come......

PUNGAERE AND WAIPAPA SCHOOLS.
School, Pupil, Building and relative Records,
covering the years from 1892 to 1926.
St. JAMES CHURCH, KERIKERI.

Baptism & Marriage Records

St. JAMES CHURCH KERIKERI.
Cemetery Records. Updated Records...

St. JOHN THE BAPTIST CHURCH,
Waimate North, Bay of Islands. List of Headstones...


To Face The Daring Maoris
Here is the Index of Names from this Book,
which tells of the first New Zealand War 1845 - 47.
COROMANDEL THAMES
APPLICATIONS FOR LAND PURCHASES
From 1869 to 1930. A HUGE List of Names From the Records
of 'Land Information, NZ.' Thames.. (Previously Lands & Deeds Office.)

COROMANDEL: LEASE OF MAORI LAND.
1850 -1862

DIRECTORY OF TOKATEA
( The Range above Coromandel) Taken from Wise's Directory 1880.

DRIVING CREEK. (IN THE SAME AREA AS TOKATEA
From Wise's Directory 1880-81

INTENTIONS TO MARRY
Coromandel Residents. From National Archives

KAPANGA - COROMANDEL 1880- 1881
NAMES FROM WISE'S DIRECTORY .
MINE OFFICIALS.THAMES. NZ.1898.
Names and details of 100 "Leading Scientific and Practical Mining men."

St. JAMES CHURCH, THAMES.
Index of Names in 'Seat Letting Cash Book', of St. James
Presbyterian Church, Pollen Street, Thames, NZ. 1872 - 1894
SIGNATURES FROM KARANGAHAKE
A List of 100+ Residents of Karangahake, who signed an unsuccessful
petition to have the goldmining township at the foot of the Coromandel
Peninsular declared a borough in 1907.

TAPU-KERATA SCHOOL ROLL
1874 - 1899 This School is approximately 25 km. north of
Thames, on the West Coast of the Coromandel Peninsular.

WAIHI SCHOOLS.
Details of Pupils and Staff at the First Waihi School 1890.
And some details of the Waihi East School, 1907
DEVONPORT NORTH SHORE (Auck)
DEVONPORT LAND PURCHASES

DEVONPORT BICYCLE LICENCES
1936/1948. A great List for those with an interest
in the North Shore. Hundreds of Names & addresses..
DEVONPORT & NORTHSHORE.
Check out the "Devonport Today" Photos on this Page.
They include one, regularly updated, used with the permission
of WebcamNZ, who own the Copyright. Check out their
other up-to-the-minute images, at www.webcam.co.nz
OLD DEVONPORT,
Which has views of the main street, way back when!!
DEVONPORT MAYORS & COUNCILLORS
From 1886 to 1924.
DEVONPORT POLICE
All about them, with LOTS of names, from 1869 to 1924.
DEVONPORT NOSTALGIA
Chess & Draught Club 1886: Readin Room 1887:
Postal Returns Aug. 1889

DEVONPORT RESIDENTS.
A List of some 350 names of Devonport Residents who Left
Their Mark on the District.
EARLY GOVERNMENT IN DEVONPORT From 1848.

OLD DEVONPORT CEMETERY
Some details of Early Headstones
FIRST CHAMBER OF COMMERCE in Devonport,
with names of Early Members.
ALL-OVER-NZ PAGES


BATTLE OF TE RANGA,
TAURANGA. (21st. June?) 1864.
List of those Killed and Injured.

CHELSEA PENSIONERS

List of Chelsea pensioners to New Zealand, between 1845 and 1853.
COPIES OF THE MANY NZ.Birth,Death & Marriage Certs.I have
COLONIAL OUTCASTS (Remittance men)
CONVICTS ON THE 'VENUS' to NZ 1806

FAMILY ADDRESS BOOKS
Names from MyFamily Address and Autograph Books. From 1910.
GENEALOGY RELATED WEB SITES. DON'T miss this Page.
INDEX TO BIRTHS From NZ NEWSPAPERS
LOTS of Notices from all over New Zealand & Overseas 1845 -1887


(1) INDEX TO DEATHS. From N.Z. NEWSPAPERS.
PART ONE: From 1845 T0 1860.


(2) INDEX TO DEATHS. From N.Z. NEWSPAPERS.
PART TWO: From 1861 to ............


INDEX TO MARRIAGES From N.Z.NEWSPAPERS
From all Over!! As above... From 1843 to 1890

INDEX TO B.D.M. Registeries.
Here are Links toBirth, Death, Marriage and etc. Registries and Statistics..
World Wide.

INTELLIGENCE REPORT
NZ. N aval & Military War Injuries. 1864
Includes List of Passengers aboard the S.S. AUCKLAND 28th. Dec. 1863,
CHARIOT OF FAME on 9 Jan. 1864 and The Troop Ship, LIGHT BRIGADE
from India on 12th. Jane. 1864..
- AND -
WAR 1864.
More War Casualties.

KAWAU DIARY
Pages from Peter McDonald's Personal Diaries, while resident on
Kawau Island.1871-1876.Lots of names....

LAND TRANSFERS In the Far North - Kaitaia.

ANY TOWN IN NEW ZEALAND
Find (almost) any town in NZ, complete with a Map.

NATIVE LAND TENURE 1850 -1862


Showing Name of Occupant; District; Year when the Occupation began.
The quantity of land held; Tribe it belongs to; Type of tenure.
Number of Occupant's family. Trade or profession of the occupant

NZ. ARMY. LIST OF NAMES. 1866

OFFICIATING MINISTERS.
Province of Auckland12th January 1854

OUR FAMILY.
Names and places of the folk I'm Researching

PASSENGER LIST. S.S. Rimutaka:
Departed Wgtn. for London: 1905 All Blacks included
in Passenger list...

IMMIGRANT SHIPS TRANSCRIBER'S GUILD
AND
PASSENGER LISTS. N.Z. and AUST .
About 400 Ship's Passenger Lists.. From Mary-Anne Warner's Site

PEOPLE RECEIVING CROWN GRANTS. OTAGO.


1864. List of names.

Some Interesting Facts about New Zealand
MISCELLANEOUS:
Correct Terms for MEASURING TIME

E.Mail SUBJECT ABBREVIATIONS

FORMS. Search this datatbase for Free Legal Forms.
Use the Search Engine to find the form you are looking for.

HEADSTONE Inscriptions Meaning of Headstone Carvings..


Glossary of OLD MEDICAL TERMS.


NZ. ARCHIVES. Addresses, Office Hours etc.
NEW ZEALAND HISTORY
It's all here. Your First Port of Call for Information
on New Zealand History. Have a good look through it..
Included are the names of all the NZers who fought in
the South African (Boer) War - includes some family
background information: & don't miss the Discussion Page.
Very useful for Researchers.

THE ONLY LINK YOU'LL EVER NEED
Links to Webs, Directories (USA. UK. Aust. NZ. Global. etc) ,
Search Engines, Computer Dir., Encyclopedias, News
Resources/Newspapers and HUNDREDS of very useful
Links. ... You could happily stay at this Site for a week!!!

OLD TRADES

UK.CENSUS DATES

SOME OF MY FAVORITE SITES
HELEN'S NEW ZEALAND BUY & SELL.. Free Advertising
for Software, Books, etc etc, of interest to Genies & Historians.
Let me know if you
find any Broken Links.

pearl@pearlspad.net.nz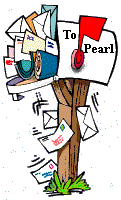 Check this out
Very Useful!
WELCOME
Thanks for visiting my site.
You really must have a look at New Zealand's Own
TRADE and AUCTION Site...
Classifieds, Bidding and Buying is Free... And it's Fun.
Just CLICK on the Top Bar.



PICO Searches my Web Site and all Others.
New Zealand Genealogy Search Engine
www.gendoor.com Genealogy Doorway. Very thorough.
www.vivisimo.com Sorts the hits into folders - one being Genealogy

And don't forget Web Ferret
And Euroferret, for Genealogy Indexes etc..