DEVONPORT CHESS AND DRAUGHTS CLUB
A Chess and Draughts Club was formed in the old Library in Devonport Hall,
Beach Road in the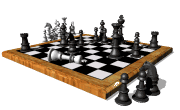 early 80's. In 1886, at the half-yearly Meeting in August,
it was stated that the Club, though only in its infancy,
had scored honours at Auckland. The Subscription was
10/- per annum (ladies 2/6). The President was Rev. BATES,
Secretary Miss E. R. WATKINS.
In 1890 the Club was actively enganed in inter-Club Play.
They defeated Remuera by 10½ games to 6½.

The Devonport Team was :
Miss E. R. WATKINS, Messrs. S. H. BROOKES, TRIMBLE, CASHAN. Capt. SELF,
L. W. McGLASHAN, ? CHAPMAN, BOYLAN, W. J. WILD and Sergt. KELLY



THE DEVONPORT FREE READING ROOM
The Queen Victoria Jubilee Reading Room was opened on Aug. 11 1887, with

a free "Promenade Conversazione". Mr. M. NICCOL, the Mayor, Presiding.
The movement to provide the Room was originated in May 1887, as a means
of commemorating the Jubilee of Her Majesty.

The Committee that carried the suggestion into effect were:- The
Mayor, Mr. NICCOL and Messrs. O. MAYS, A. BENGE, W. MITCHELL,
E. BARTLEY, W. PHILCOX, N. J. DUNNING, A. LITTLE, S. VOSPER,
J. KNOX, Rev. BATES, J. DINSDALE and Professor BROWN.
The circular covering the Invitation to attend the opening Ceremony was
Printed and Published in Devonport Free Reading Room, by T.C.SIBBEN.

A Concert, in aid of Funds for the Readin Room, was held in Devonport Hall.
July 28th. 1887. The Programme was contributed by Mrs. A DADER, Mrs.
GEDDES. Miss MONEUR, Miss BARTLEY, Messrs. Lesley MARTIN, A
BARTLEY, C. W. COOKE, T. CHANTER, G. L. PEACOCK, J. H. HOOPER,
A BENGE, A. EDWARDS, F. J. WHITAKER, and the Grafton Orpheous
Glee Club. Mr. BARTLEY, with his microscope was a well-known feature
of the Institute.
POSTAL RETURNS. AUGUST 1889
Furnished by Chief Postmaster at Auckland, NZ.
Volume of Mail at Devonport Post Office.
Posted: Letters 22,984: Postcards 728: Books etc. 1,404: Newspapers 4,150.
Delivered: Letters: 39,364: Postcards, 3,536: Books etc. 2,496: N'Papers: 6,812.
Cost per annum of transmission of mails from Auckland NZ. £53: Delivering
and Clearing receivers, £68. per annum. Postmaster for Postal Duties £26 per
annum: same for Telephone Work (including delivery of messages) £65 p/a.

SHORE BOY'S SUCCESS
In June 1900, the Devonport School tendered a Complimentary
Dinner to F. J. BURGESS, an ex pupil of the School, who had been offered, and accepted, a Magistracy.