Things You've Always Wanted to Know About
Our Country
New Zealand is surrounded by the world's largest Ocean,
and none of its inhabitants live more than 70 miles from
the Coast!
This explains why so many of us excel at Sailing, Swimming, Fishing, or just lying around in the sun !!
AND WHY WE ARE - for the second time -
THE PROUD HOLDERS OF THE AMERICAS CUP
FOR YACHTING... THE OLDEST AND MOST
PRESTIGIOUS TROPHY IN THE WORLD OF SPORT!
New Zealand was first settled by the Maoris, who named the Islands
Aotearoa.. "The Land of the Long White Cloud".
(There are 3 main Islands, and many hundreds of little ones).

The name 'New Zealand' (Nova Zeeland) was given to us by the Explorer,
Abel Janszoon TASMAN, of Lutjegast in the Netherlands. in December 1642,
when he 'rediscovered' us!

The first European settlers to come to New Zealand arrived 20 to 25 years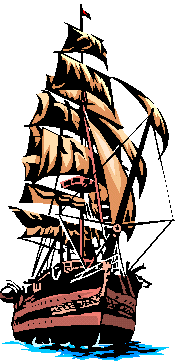 after it was again 'rediscovered'! This time by
Captain COOK. of Yorkshire, England, in 1769.
The new settlers were mainly whalers, shipwrecked sailors and escapees Australia. See Convicts on the Venus
Traders and Missionaries were quick to follow, with an eye on the Flax and Timber Trade, and the Saving of Souls.

An estimation of the European population in 1800,
puts it at a mere 50, rising to 200 by 1815 and
approximately 1,000 by 1839.
Things went along quietly until the discovery of gold, in the Otago Region, in 1861. During the 1860's 204,786 new Settlers arrived, but it was not a particularly successful site, and thus many were forced to move on and look for new pastures . In fact, by the end of the 1860's, the country was in a depression!
Assisted immigration was launched in the 1870's and things
really got moving then, with a net migration gain of 38,106 being recorded in 1874
New Zealanders have their roots in pretty much every Country throughout
the World and new people arrive every year, attracted by our warm climate,
laid-back lifestyle and clean, green image.

We now have a population of about 4 million people, lots and lots and lots of
sheep and a Total land area of 103,736 sq. miles.