THE BAY OF ISLANDS...




Okiato, just across from Paihia, was
New Zealand's first Capital, albeit for
a very short time, but the main trading
village was Kororareka, now known as Russell.

In 1840, Felton MATHEWS, acting Surveyor for the area Surveyed
and planned a town at Okiato, as a prospective Colonial Capitol.

It was close to property owned, since 1832, by James Reddy CLENDON.
Records show that Okiato held this Title from February 1841 until January
1844, when the Capitol was officially moved to Russell. A plaque which
commemorates the site was unveiled by Mr. Logan SLOANE, MP for Hobson,
on the 5th. November, 1961.
The History books are full of the riotous doings in the Bay of Islands during
those early years, with whalers, grog and the young Maori maidens featuring.
There were a number of marriages, as can be seen in the St.James Records
and there are many Families in the area which can trace their ancestors
back to those first arrivals.

This is not intended as a History Page.. Rather it features the names of
some early folk and their interests. Use the "find" facility in Edit to
search for Family Names.
~#~#~#~#~#~#~#~#~#~#~#~#~#~#~#~#~#~#~#~#~#~
KORORAREKA... RUSSELL.
The first Resident Surgeon to the Area was Dr. Samuel FORD, who arrived
in 1837. One son, Ernest (from their family of 10) was an original Councillor
on the Bay of Islands Council and also ran the Wholesale Wine, Spirits and
General Store.. He eventually moved to Devonport, Auckland.
On 22nd. April 1864, a letter was presented to the Superintendent of the
Province of Auckland, on his visit to Kororareka, signed by the following
Residents.
John HILL George GREENWAY John CALLAGHAN
John JOHNSON J.B.WILLIAMS John PRIOR
Gregory S.NORRIS John DONALD George MILLER
George COOK E.H.SIMONS William BAKER
S.STEPHENSON C. HARGREAVES.
( At least 6 of these families are still represented in Russell
and the surrounding Area.)
~#~#~#~#~#~#~#~#~#~#~#~#~#~#~#~#~#~#~#~#~#~#~#~
RUSSELL REGATTA
To be held on Russell Beach
Tuesday April 9th.1912
Patron, V.H.REED Esq. MP. President, H.G.SETH-SMITH.
Committee:- Messrs.LONGSTAFF, J.B.WILLIAMS,
G.COOK, J.HODGSON, E.G.HEWIN
~#~#~#~#~#~#~#~~#~#~#~#~#~#~#~#~#~~#~
RUSSELL
(Town District, Bay of Islands County)
Constituted 1923
Population 1st.April 1928 365.
Ratable Value (Unimproved) £29,271.
Area 1.066 Acres.
Russell is situated 128 Miles North of Auckland, with which it has
communication by sea, twice weekly.

There is a daily Rail Service with
with Whangarei and Auckland.

The County Roads in the Town are controlled by
the Town Board. Length of Roads and Streets
5 miles. Recreation Reserve: Domain of 7 acres,
controlled by the Kororareka Domain Board.
Library, erected in 1927, containing 2,500 books.
Town Hall, erected 1922, by Public Subscription. Capitol Cost £1,2000.
Picture Theatre. Pictures are shown in the Town Hall twice weekly.
Statutory Half-Holiday, Saturday.


TOWN BOARD
Chairman, E.G.HEWIN.
Commissioners, J.ARMITAGE, A.E.BISSET, T.R.CLOW
CHIEF OFFICIAL
Town Clerk & Treasurer, A.H.HITCHCOCK
(From Local Govt. Handbook. 1929.)

~#~#~#~#~#~#~#~#~#~#~#~#~#~#~#~
KAWAKAWA
KAWAKAWA RACES
Monday, January 31st., 1881 At the Public Recreation Grounds,
TAUMARERE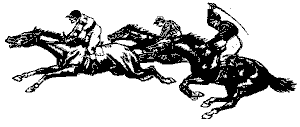 President: T.P.MOODY Esq. JP:
Vice Pres: Dr. BOASE
Judge: Mr.F.McKENZIE:
Clerk of Scales; Mr. R.A.HALL
Clerk of Course and Scales Mr. John GRAY.
Stewards: Mr. D.MIDDLETON; Mr.R.GREY;
Mr.W.CALLAGHAN; Mr.G.BREWER; Mr.John Hall ;
Mr. R.A.HALL; Mr.J.SWINBANKS; Mr. F. MACKENZIE;
Mr. J. HIGGINSON; Mr.G.SIMMONS .

KAWAKAWA VITAL STATS.1884.
Population 1,000: Principal Industry Coal Mines.
Waiomio Caves (5 miles from Township). Res. of MAIHI PARAONE KAWITI.
R.M. Court - Sitting monthly. J.S.CLENDON.
Justices: T.P.MOODY, Captain HENRY. Constable; W. COUGHLAN.
Bay of Islands County Council: Meets Monthly.
Councilors: Hon.H. WILLIAMS, Chairman H. TRENCHARD, James SLATER,
(Waimate); E.FORD, J.B.WILLIAMS (Russell); T.P.MOODY, W.SWIFT(Kawakawa).
Wesleyan Church: Rev. G.T.BROOKE. Public Library. Librarian J. McNICOL.
Masonic: Lodge Northern Light, E.C: 30 Members.
Officers:- G. TURNBULL, J.WEBB, T.McCLINTOCK, W. COUTTS, E.T.DAM, Treasurer,
F. MacKENZIE; Secretary, J.McNICOL: E. HARROP, J.MOORE.
Loyal Orange Lodge, No. 15. 50 Members.
Officers: G.W.BREWER, Joseph Whiteman, Joseph McCREADY, Treasurer;
T.J.JAGGER, Secretary; Rev. T.G. BROOKE, Chaplain.
I.O.O.F. (American Order) Kawakawa Lodge No. 37. Officers:-
J.WEBB, J.COOMBE, G.BREWER, T.JONES, T.McCLINTOCK, G.CLIMO, J. McCLEAN,
W.WEISS, R. HUTCHINSON, A. BREWER, H.SMALLSHAW, R. HERON, J.H. MARSHALL,
George GREENFIELD.
I.O.G.T. Black Diamond Lodge; 50 Members.
Officers:- John RUSSELL, H.HOLTON, M. HANSON, B. NICHOLSON, Alex HISLIP,
T.J.JAGGAR, A. WILKINSON, Treasurer. Rev. BROOKE Chaplain, James MIDDLETON,
H. TOBY, J. RENHARDT, W. BLACK.
TRADESMEN ETC..
AUCTIONEERS: MARSHALL & HALL.
BAKERS: R.SMALLSHAW, D. LEARMOUTH.
BAY OF ISLANDS COAL MINES. T.P.MOODY Manager.
BOOTMAKERS: J.McCREADY, W.TEACE.
BLACKSMITH: G.BREWER.
BRICK MAKER: J.HILL.
BUTCHERS: J.A.L. HALL, T.G.USHER.
BUILDERS: E.HARROP, J.REED, J.MOORE.
CARTERS: J.MIDDLETON, J.A.L.HALL
DRESSMAKER: Miss RAMSBOTTOM.
GUM BUYERS: W.CALLAGHAN, D.J.KIRKPATRICK, MARSHALL & HALL.
HARMONIC SOCIETY: Conductor T.D.TRIPHOOK. Sec. James H. MARSHALL.
HOTELS: Star, W.SWIFT. Masonic: W.PIERCE. Junction: G.WHITE. Exchange:
(Taumarere) James McCAMMON.
KAWAKAWA BRASS BAND: H. SKELLERN, Bandmaster.
NEWSPAPER: "Northern Luminary". Frs. MacKENZIE prop.
NURSERYMEN: C.GOODHUE, R. HUTCHINSON.
PAINTER & PAPERHANGER: W.H.GODWIN.
POSTMASTER: A.W.MANN. LINESMAN: J. CROSS.
PRINCIPAL STORES: J.KEATLEY, G.TURNBULL, D.J.KIRKPATRICK.
RESIDENT M.D. Dr. CALDWELL.
SADDLERS: J. McCREADY, J.A.L.HALL
SCHOOLMASTER: J. ARMSTRONG.
TAILORS: Hugh McCREADY, T.McCLINTOCK.
WATCHMAKER: M. VOKES.
~#~#~#~#~#~#~#~#~#~#~#~#~#~#~#~#~#~
After the KAWAKAWA RACES held Tuesday, January 29th. 1884, there
was held a Grand Entertainment in the Public Hall. Entertainers were:
Mr.J.ARMSTRONG; Mr.B.ALEXANDER; Mr.H.McCREADY; Mrs.PHILP;
Mr.T.BOOTH; Mr J.REED; Mr.GEORGE; Mr.HOOKER; Mrs.H.McCREADY.
~#~#~#~#~#~#~#~#~#~#~#~#~#~#~#~#~#~
Committee Members of the KAWAKAWA Racing Club in 1892 were:
Messrs. W.WOODS; R.A.HALL; J.FLEET: J.A.L.HALL; S.NEIL; J.KEATLEY;
H.STEWARY; D.CULLETON; W.SWIFT; J.R.REED; W.STEWART; F.MACKENZIE;
H.PARKER; G.BREWER; V.E.BELGRAVE; R.MARSHALL.
~#~#~#~#~#~#~#~#~#~#~#~#~#~#~#~#~#~
In 1898 Local Businessmen were:-
General Storekeeper, W.STEWART:
Blacksmith & Horse Shoer, Henry MIDDLETON:
Junction Hotel, Prop. P.O'CONNOR:
Star Hotel, G.H.BREWER: (Prop.since 1897)
Auctioneer, J.A.L. HALL:
Barrister & Solicitor, Mr.E.C.BLOMFIELD.
~#~#~#~#~#~#~#~#~#~#~#~#~#~#~#~#~#~#~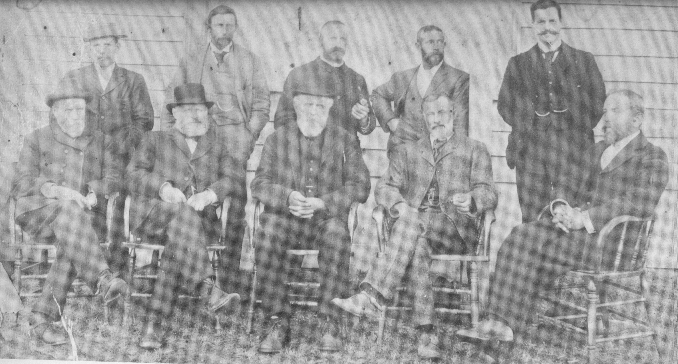 This is the earliest photograph I could find of the Bay of Islands Council
It was taken in 1897 and shows:-
Back Row: H.C.BLUNDELL (Engineer); H.S.LUDBROOK; R.B.B.WILLIS;
W.STEWART; V.H.REED (Clerk and Treasurer.)
Front: J.B.CLARKE; P.McALESTER; Hon. H.WILLIAMS (Chairman);
J.A.L.HALL, Horace S.WILLIAMS.

~#~#~#~#~#~#~#~#~#~#~#~#~#~#~#~#~#~