This is a fairly recent photograph of Devonport today, with Rangitoto
Island in the background..
Wish I could show you what it was like when I lived there, in 19 hundred
and mumble-mumble !!!
In 1868 my Great Grandfather, Charles SANDERSON, purchased two adjoining
sections, right on the beach-front. Lots 8 and 9 Cheltenham Road - for £62/1/10 !!
And that is where we lived.. A wonderful place for a child to grow up..
Thanks to Bruce CROWTHER we have some early photos of the Main Street
Check it out..
The descendants of many original Families are still there, and I'm sure that
these Devonport/Northshore Pages will be of great interest to them and
many others.
Most of the Devonport and North Shore information is taken from the pages of the
"Story of Devonport and the Old North Shore", which is a compilation of News
of the area, from 1841 to 1924, Compiled and Edited by T. WALSH

And here is a WebCam view of Auckland City, take from Devonport.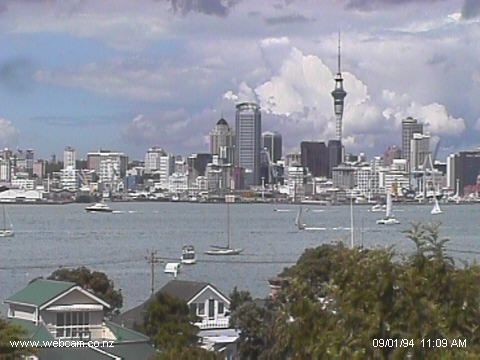 View from Devonport.
An average Saturday morning on the Auckland Harbour.
(Can't work out why their dates are always wrong!!)
This is copyright to WebcamNZ and used with
their permission. Check out the other up-to-the-minute photos
at www.webcam.co.nz.